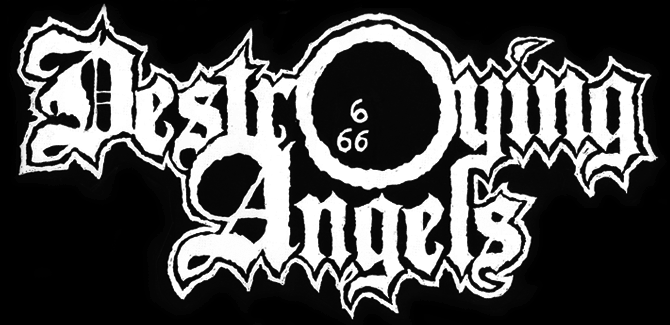 Dennis Dread's DESTROYING ANGELS has celebrated and supported the invisible empire of renegade artists and great "lost" art in all its unsung glory since 1998. DESTROYING ANGELS hails both the established forefathers of the underground art movement as well as the lesser known soldiers battling in the trenches of obscurity. In the tradition of true D.I.Y. fanzines, DESTROYING ANGELS is written, cut & pasted, copied, collated, and mailed by one art-possessed individual for no profit. This is purely a labor of love, published approximately once every year. But make no mistake, DESTROYING ANGELS is not purposefully "old school" or "nostalgic". There is no age more desperately in need of the soulful nuances of hand-wrought art than the present and no day more ripe for the arrival of REAL underground art!Beware...



Destroying Angels #1: 1000 pro-printed copies with hand-colored golden apples of discord on each cover. Featuring the art of Sleep Chamber (John Zewizz), William Burroughs on the Johnson Family code of outlaws, apocalyptic visionary Joe Coleman on turn-of-the-century career criminal Jack Black, anarchist collage artist Freddie Baer, and more!

No longer available.




Destroying Angels #2: Featuring interviews with Joe "Motorhead" Petagno, Jacaeber Kastor of New York City's legendary poster shop Psychedelic Solution, & dungeon-dweller Mortiis. Plus art by NYC squatter artist Fly and historian Howard Zinn on the politics of power!

No longer available.




Destroying Angels #3: The "Bloody Horror Crime Issue" with blood-spattered covers! Featuring interviews with Jeff Gaither, gorehound supreme Chas Balun, Church of Satan's horned high-priest Rex Church, and German deathgrunters Warhammer! Plus art by Mark Riddick and a tribute to obscure trash-film director William Girdler (Abby, Day of the Animals, Grizzly, Asylum of Satan)!

No longer available.




Destroying Angels #4: Interviews with "Mid" of Deviated Instinct, Yasuyuki Suzuki of Abigail/Cutthroat/Barbatos, The Soil Bleeds Black, Jake Karns of Tales From Uranus comic, and guest-curators of the Vesterheim Norwegian-American Museum on Norse heathen archetypes! Plus the secret architectural history of New York City's spectacular Grand Central Station and Markus Wolff's exclusive tribute to long-forgotten Teutonic visionary Franz Von Stassen!

No longer available.




Destroying Angels #5: The Mad Marc Rude tribute issue featuring Marc Rude's son, Carl Schneider of Black Market zine, Victoria Scalisi of Damad, Czech artist Deather, convicted cartoonist Mike Diana, and controversial Apache Satanist Steven Johnson Leyba. Plus art by Sean "Bloodbath" McGrath!

No longer available.




Destroying Angels #6: Featuring interviews with N.Y.H.C. cartoon-core legend Sean Taggart, Joe Coleman on carny slang, cannibalism & Catholicism, ex-Sacrilege B.C. singer Strephon Taylor, underground comix historian Patrick Rosenkranz, and Aussie artist Glenn Smith. Plus the debut of Chris Reifert's psychedelic masterpiece 'Red Rat Zero' & more art by Sean McGrath!

No longer available.




Destroying Angels #7: Featuring interviews with Garbage Pail Kids artist John Pound, death metal veteran Dan Seagrave, Scott Stearns, Projekt Thule, and Manuel Tinnemans! Plus Patrick Rosenkranz's exclusive tribute to underground comix genius Greg Irons and more skull-fucking funnies by Chris Reifert!

No longer available.




Destroying Angels #8: Featuring an unabridged reprint of the long-lost 1882 tattoo autobiography The Life & Adventures of Captain Harry Decoursey! Plus interviews with monster-thrashing artist Ed Repka, Sean Smithson on the creation of Megadeth's Vic Rattlehead, Spain's gore-master Nor, and a tribute to deceased tattoo artist Nate Hudson! Also featuring Reuben Storey's visual ode to Impetigo and a critical look at the aesthetic use of flags in punk art!

No longer available.




Destroying Angels #9: "They made a desert and called it peace." Tacitus heralds the "heathen issue" featuring interviews with Darkthrone, Rob Miller of Amebix, R.N. Taylor of Changes, Michael Moynihan of Blood Axis/Lords of Chaos infamy, Markus Wolff of Waldteufel, and 'Norwegian Black Metal' photographer Peter Beste. Plus Dennis Dread's prison visit with Bobby BeauSoleil, Gerhard Hallsstatt on the 'Heathen Home', The Cult of the Sword, and Leon Marcelo's Creepy Crawls!

No longer available.

Destroying Angels #10: Coming soon.